Central Parkway Mall is an indoor community mall located in Mississauga, Ontario, at 377 Burnhamthorpe Road East, which has been open since 1978.
This 140,000 square foot indoor shopping mall is anchored by Food Basics, McDonald's, Pharma Plus Drug Store, Baskin-Robbins and 40 other retail tenants.
Among the tenants located upstairs are dentists, doctors, lawyers, an English as Second Language School sponsored by Dufferin-Peel Catholic District School Board as well as several other professional and service-oriented offices.

Shopping Hours
Mon-Fri: 10AM – 7PM
Saturday: 10AM – 6PM
Sunday: 10AM – 5PM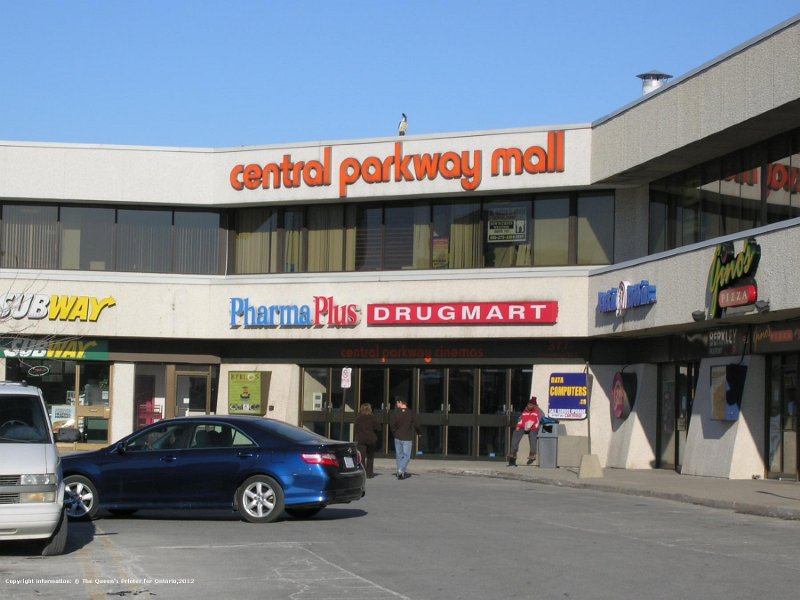 Leasing Information
Are you looking for a location for a new or existing business? Our thriving center offers a strong, densely populated primary market and an exceptional regional market draw for a facility our size. Located 1 mile east of Mississauga City Center, the mall boasts top performing anchor tenants and franchise operations as well as smaller owner operated retailers and professional offices. Outstanding traffic flow provides superior sales opportunities for new and existing ventures.
If you would like to be part of our retail or professional office community we invite you to enquire through our Contact Us page and a representative will get back to you with more information regarding space opportunities and our leasing process.

Quick Facts
Center GLA: 145,000 sq ft
Retail Stores: 40
Food/Restaurants : 8
Professional Offices : 26
Anchors: Food Basics, Pharma Plus, McDonalds
Service Anchors: Regional Passport Office, Older Adult Center of Mississauga
Parking Spaces:  Exterior Surface Parking 452 spaces, Underground Parking 138 spaces
Center Sales Productivity $450/sq. ft.
Current Opportunities
1,085 sq. ft. Professional Office space
150 sq. ft. Retail Store
715 sq. ft. Retail Store. Presently an art and framing retail operation know as Parkway Frames. Owner is retiring after 39 years of operation. Opportunity exists for a new business or a continuation of the existing business.